THE COVER-UP OF THE CENTURY
the sensational & controversial book that names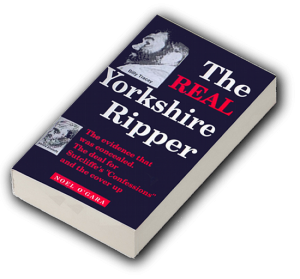 The Answers to all those questions
that were never addressed.
"Copy-Cat Ripper at Large".
1978, Daily Mail.
"It was known in the top echelons of the
police that two men were involved
in the series of murders."

R.J.P. Warren, Deputy Chairman of  West Yorkshire Police Authority.

THE REAL YORKSHIRE RIPPER STORY
Peter Sutcliffe was a copy-cat killer, responsible for only four of the thirteen murders which he 'confessed' to. He had been eliminated twelve times by the police because he was blood group O. The Yorkshire Ripper was known to be blood group B.
The police knew that two men were involved in the bizarre series of murders, but tactical blunders made it expedient to make a deal with the copy-cat killer, who was offered ten years in a luxury mental home for his 'confessions' to everything, by a police force desperate to close the file.
More than thirty years on, the Real Yorkshire Ripper, far from being a hoaxer, and who wrote mockingly to the police in order to implicate the copy-cat killer and divert the police hunt away from the Irish suspect to the North East corner of England, is still free in the U.K.
This 257 page book, not available in the shops, was written by Noel O'Gara, the former employer of the Real Yorkshire Ripper. O'Gara had an insight into the Ripper investigation from none other than the Yorkshire Ripper himself.
This insight has enabled him to piece together the police handling of the investigation and their framing of the mentally disturbed  Peter Sutcliffe, who was in fact a copy-cat killer responsible for only four of the thirteen murders he confessed to.
Police reluctance to look at their mistakes
left the author no option other than to record the story in a book
and name the real Yorkshire Ripper, who is still at large.

Author and Publisher :

NOEL O'GARA ,
COURT PUBLICATIONS,
BALLINAHOWEN COURT,
ATHLONE,
COUNTY WESTMEATH,
IRELAND.
Tel: 00 353 906430107 (from UK)
090 6430107 (Ireland)
EMAIL: noelogara@yahoo.com
Tweet